Juniors
The Doug Campbell Cup
UPDATE
8 September - games will be at Scully Park West Tamworth (see poster below).
15 September (season extended by 1 week) - At Tamworth Rugby Park. End of Season. Presentations and BBQ.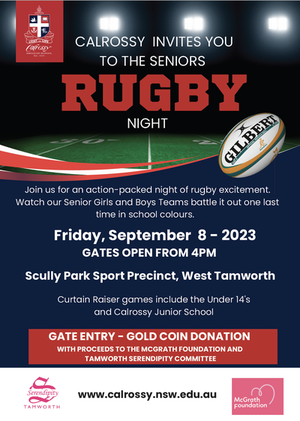 The Doug Campbell Cup is the "Friday Night Primary Schools Rugby" competition for boys and girls grades 5 and 6.
Held at Tamworth Rugby Park on Fridays from 4pm to 6pm.
2023 dates:
in Term Two from 2nd June to 30th June (for five weeks), and
in Term Three from 28th July to 8th September (for seven weeks).
At the end of the competition, one of our local Primary school teams will be awarded the Cup. The successful school will be assessed on sportsmanship and participation.
Tamworth Rugby Club started the "Friday Night Primary Schools Rugby" competition for four local primary schools in August / September 2022 (over five weeks). There was a good response from boys, girls, their parents, and some of our players. Great fun.
The competition is called "The Doug Campbell Cup" in recognition of Doug and Rosemary Campbell's significant participation in the club. They served the club faithfully from 1952, when Doug re-established the club after WW2, until their passing in 2021 and 2022 respectively.
The family of Doug and Rosemary Campbell have donated a considerable sum of money to honour their parent's legacy and to support junior rugby at the Tamworth Rugby Club.
The club has a long and proud tradition, and we want to honour Doug by naming the Cup after him. (Note: please refer to the history page on the club's website).
In 2022, LBK Solicitors was the inaugural sponsor. In 2023, LBK Solicitors and PKF Accountants are co sponsors. They are enthusiastically supporting this new competition with their ideas and experience. The club thanks them.
We see this as a natural progression for young rugby players coming through these Friday night teams, eventually progressing to a High School competition, before taking their hard-earnt position in grade football. A natural progression that assists the players develop physically and with skill, along with their peers and mates.
Right now, the club is looking for players and parents interested in participating in the Primary Schools competition. This is new ground for all, so we are very much interested in your thoughts and ideas.
Bernie Williams contact details
e: bernwilliams1115@gmail.com
m: 0431 248 681